Introducing… The Video You Deserve: The Greatest Music Video Of All Time!
It's Monday.
Yeah.
We feel you.
And so, we're debuting a new feature. This feature. And in this feature, every Monday, we're going to give you a music video. A fun, funny music video. Something that'll make you smile, make you laugh, make you reminisce, and make you realize that back in the day, music video creators were probably either insane or heavily intoxicated. But were also incredibly entertaining.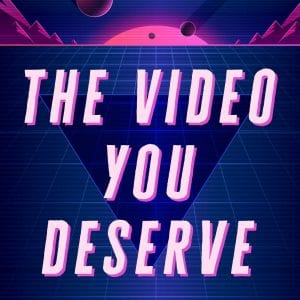 We call this feature, The Video You Deserve, and you can find it here every Monday!
And so, what video did I deign to be appropriate and deserving for our first ever Video You Deserve? Well, I did not take this decision lightly. I gave it some thought. I wanted it to be a spectacular video, a fun video, a video and a song that would bring with it an upbeat mood and probably put a smile on your face. But I didn't want it to be too goofy, like some of the other videos we'll be featuring, I wanted it to have some importance and impact, I wanted it to be one of the greatest music videos ever made.
So why not make it the video that, in my humble opinion, IS the greatest music video ever made?
It's a video of a song that took a while to be a hit. The song started out as a slow, moody tune inspired by the Doors that was initially called "Lesson One," then had its name changed to the ultra-catchy, "All's Well That Ends Well And Moves With The Sun." Yes, just rolls off the tongue, that one.
Ultimately, the band found a new name for the song, one that would end up being its final title, and they rearranged the tune a bit, but it still drifted more than soared, and was more of a ballad than it would ultimately be. (Decades later, the band would release an acoustic version of the song which hearkened back to its original form, and it would prove to be an incredibly powerful tune in that arrangement.) Still, the label released it as a single and it completely flopped.
The band, however, wanted another shot. Having worked up a tighter, poppier version of the song, they fought their record company for another go in the studio. The company acquiesced, and the Scandinavian trio that recorded it shortened it up a bit, punched it up and worked on it, highlighting some of the irresistible hooks in the song as well as the soaring falsetto of their lead singer.
The final result was about as perfect a pop single as has ever been made. In terms of pop music magic, it's absolutely flawless.
But still, despite its musical perfection and now-seemingly obvious mega-hit potential, upon its second release as a single, it, again, completely bombed. The band, which never really aspired to pop stardom and wanted to be more of an atmospheric, prog-rock outfit along the lines of their home country influences Fra Lippo Lippi, shrugged it off, but their record label's U.S. arm believed in the song's commercial potential, and to promote it, invested in a groundbreaking video unlike any that had been seen before.
The video, and the song, would end up being a smash. Directed by Steve Barron, and starring the band and the adorably wide-eyed actress Bunty Bailey, the rotoscoped clip took over two months to put together, but it resulted in a masterpiece — perhaps the most iconic music video of all time. Even today, 35 years after its release, it still looks cutting-edge and miraculous. It's been named the top video ever made in countless surveys, been featured and parodied in dozens of films and TV shows, and was the first music video to hit over a billion plays on YouTube. Powered by the video, the song went to number one in multiple countries, including the United States, and hit the top ten in dozens of others, making the band global superstars.
Of course, I'm talking about "Take On Me," by A-Ha. My personal favorite music video of all time, and, in my opinion, the greatest music video ever made.
And now, today, HERE is The Video You Deserve…
Sean Leary is an author, director, artist, musician, producer and entrepreneur who has been writing professionally since debuting at age 11 in the pages of the Comics Buyers Guide. An honors graduate of the University of Southern California masters program, he has written over 50 books including the best-sellers The Arimathean, Every Number is Lucky to Someone and We Are All Characters.